about Tamer Shaltout
Zodiac sign : Capricorn Education : Bachelor degree of commerce (English section) from Cairo University. Hobbies: rowing, gym, and reading. Experience: Reiki Master, NLP practitioner, energy healer, and professional actor. Shows: 7a2a2 helmak, mokalmetnos el leil, Etisalat music box , and hommaelly b.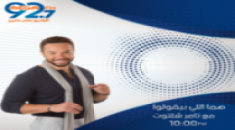 Homma Ellybyolo
Presented Show
Different program that try to explore and get out insights from old sayings ,every Sunday at 10 pm to 12 am presented by tamer shaltoot.