about Mustafa el reedy
Name: Mustafa el reedy Zodiac sign: Pisces Hobbies: acting, singing, reading (read more than 100 books) Experience: creative director, voice over artist, official voice for different entities (Egypt air, al 7aram al makky, and many others). Script writer and a professional lyrics writer. A professional actor, participated in many TV series. Hosted a TV show at On TV ( taxi masr)..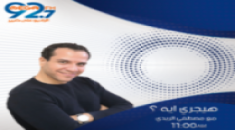 Hayegra Eh
Presented Show
In this program we assume what will happen if life had changed partially and everything around us was different in a way and see how things would be , Wednesday and Thursday from 11am:12 pm ,presented by mostafa el reedy.