about Amgad El Sharkawy
Zodiac sign: Aquarius Education: graduated from the high institution of art and theatre, décor section. Hobbies: singing, composing music, writing, and playing musical instruments. Experience: dubbing, props and costumes designer, cartoonist, voice over artist, creative copy writer, and music producer. Shows: amgadhawwaz, kawkab oozy, and sobhy..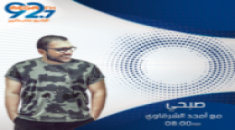 sobhi
Presented Show
It's the morning show from 8:10 am Sunday to Thursday Presenting traffic ,weather updates in addition to funny and sarcastic facts in an interactive way , presented by amgad el sharkawe.