ABOUT Sherif Nour El Deen
- Date of Birth : 6 September

- Place of birth : Cairo

- Education : Mass communication, October university for sciences and arts.
.
- Favorite quote : " Never Give Up  "

- Favorite food :  Sharksayea ( a Turkish Signature plate)

- Zodiac Sign : Aquarius 

- Interests : Reading, Traveling, Movies..Sports 

- Favorite Singer : Amr Diab.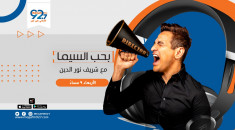 Ba7eb El Cima
Presented Show
Welcome to the Magical world of the Movies! Cinema will always be the one Form of Art that always brings us together, and "Baheb El Cima" brings you all that is Movie related ....together. Proudly the first Weekly Radio Show that features the creators and Biggest Names that gave the Egyptian Cinema its legacy , whether through live" One on One" interviews and never Heard before secrets , or through special episodes that will sure leave the listeners mesmerized and enchanted by the facts , stories and realities behind their favorite movies..