ABOUT Mohamed Fahmy
Name	: Mohamed Fahmy
D.O.B	: 18.10.1985
Zodiac :	Libra
Faculty	Law - Ain Shams University
Hobby	: Reading, Water Sports, Running, & Travelling
Shows :	Sa3et ElSob7 m3 Mega FM, Khatwa l2odam,  belsyasa afham, ma3lesh eldonia seyam, by7sal mesh 3andena, Eslam 7or, Fawazeer Mashaheer, ElNas ElTanyeen (best cultural & social radio show award from The Arab Producers' Mondeal in 2015
Past Experience :	* Worked as a T.A in the MasComm Department at the Arab Academy for Science & Technology
Favourite Qoute :	If You wanna have a different result, you gotta take a different path.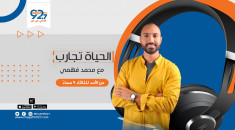 Elhaya Tagarob
Presented Show
Life is too short, let's get over events and discusses ideas to clear our minds and live happier. Wait for me Mohamed Fahmy every Monday and Wednesday at noon for two hours joins to enjoy..