ABOUT Amgad El Sharqawy
- Date of Birth : 9 Feb 

- Place of birth : Cairo

- Education : academy of arts the high institute of theatrical art

- Favorite quote : " what's inside you is a projection of what's outside  "

- Favorite food :  Seafood 

- Zodiac Sign : Aquarius 

- Interests : Music 

- Favorite Singer : Amr Diab.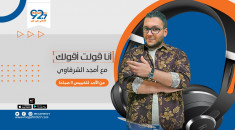 Ana 2olt A2olk
Presented Show
We all need to chill after a long day of working and stressing out. Take a break and join El Estera7a for a friendly chat and great music..