ABOUT Men Embar7 Lel Naharda
 "Men embare7 lel naharda" is a show which is basically for young and older generations ... it discusses the diverse changes which happened in our lifestyles, conversation languages and reviewing some old memories we lived in places or pictures we have taken or even special incidents and events to be memorized. 
Men embare7 lel naharda is a nostalgic show reviving old and new memories..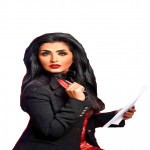 Hamsa Emam
presenter of the show
- Date of Birth : 18 May - Place of birth : Kuwait - Education : Faculty of Arts . - Favorite food : All kind of food except kaware3 - Zodiac Sign : Taurus - Interests : Painting - Traveling - Jogging - Favorite Singer : Ali El Haggar.